Well, what is there to say about the emissions scandal inside Volkswagen (VW), the biggest car manufacturer in Europe, and a major global player?
Maybe we could start by quoting the words of the President and CEO of Volkswagen's US group, Michael Horn, who has admitted that the company "totally screwed up" in using software to rig emissions tests. He told an audience in New York that Volkswagen had been "dishonest" and that their actions went against their own "values".
Do we know what happened?  No, not yet, but we certainly know the  consequences.  It's never a good day when your company features – in a bad news story – on the front page of the Financial Times.  And makes the headlines in the business media all over the world.
Value destruction – personal and financial
Corporate crises always – always – result in value destruction.  And often regime change, which is a not so nice way of saying that directors will either resign.  Or they will be pushed.  Either way, something will happen to them, because the news is that criminal charges may be levied.  And it's difficult to serve on a board if you're in prison.
As the FT reports, a German politician and VW board member said on Tuesday that heads were certain to roll over the crisis. "I am sure that there will be personnel consequences in the end; there is no question about it," said Olaf Lies, economy minister for the German state of Lower Saxony, speaking to German radio station Deutschlandfunk. Lower Saxony is a significant VW shareholder, holding 20 per cent of the company's voting rights.
But let's return to the share value destruction.  Approximately 11 million vehicles worldwide are affected by the scandal.  The company has revealed that it will set aside €6.5bn in its third quarter to address the problem.  The company had already lost a fifth of its value when the scandal broke.  The latest news has seen the company's shares fall by some 20 per cent.  Not a great week for the company.
Also worryingly, shares in VW peers BMW and Daimler were both down by 6 per cent on Tuesday. Porsche shares were 16 per cent down.  Other countries are now looking at how their automotive industries have been operating, and questions are being asked about the prospects for diesel engines generally, which form a major part of most car-makers' fleets.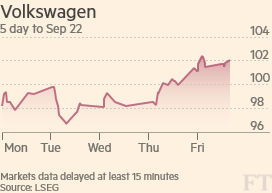 VW have always wanted to make significant inroads into the US market.  Their brand was positioned on two premises – clean engines, and powerful engines.  These are difficult objectives to reconcile, but an ability to do so was instrumental in terms of achieving market penetration.  It now appears that at least one of those objectives was a bit too challenging.  In resorting to engine management software that cheated US emissions tests, the company has severely tarnished the brand, and burnt down many reputational bridges with regulators, politicians and the buying public.  No wonder investors are deserting the company.
Where was the board?
So where was the board?  Well, actually, it was engaged in a bitter internal dispute.  The chairman of the carmaker, Ferdinand Piech, resigned in April after a power struggle with chief executive Martin Winterkorn. Mr Piech had criticised his chief executive in an interview with the German news magazine Der Spiegel, but did not specify the issue at stake. Mr Winterkorn had been widely tipped as VW's next chairman. (Mr Piech and the Porsche family control 51% of VW).
On 17 April, Volkswagen's five-member governing board gave its backing to Mr Winterkorn. Board member Wolfgang Porsche, a cousin of Mr Piech, said the latter had given his "personal opinion" without clearing his remarks with other family members.  In a statement released at the time, a spokesperson said that "The members of the steering committee came to a consensus that, in the light of the past weeks, the mutual trust necessary for successful cooperation was no longer there."  A warning sign if ever there was one.
Warning Sign #2 – shades of Toyota?
But there were other signs.  Was the company tone and philosophy, mirroring that of its sister VW company, Audi, Vorsprung durch Technik, pursued too vigorously, with insufficient challenge at board level on how the results were being achieved?
Remember the Toyota scandal, when the board in this case took its eye off the technological ball. As recently as last year, Toyota reached a record $1.32 billion settlement to resolve a criminal investigation into safety issues that had been linked to at least five deaths in the US. At the time the Japanese car maker admitted it had misled US consumers by concealing and making deceptive statements over two safety issues that caused cars to accelerate even as drivers tried to slow them down. 
The Toyota deal with the US Justice Department resolved issues that had dogged the company since at least 2007.  At the time, Toyota recalled 12 million vehicles worldwide (in 2009 and 2010) as the scandal spread and tarnished its once stellar reputation. US attorney-general Eric Holder described Toyota's conduct back then as "shameful". "It showed blatant disregard for systems and laws designed to look after the safety of consumers," he had said. As matters stand, Toyota still faces hundreds of private lawsuits over the problems. Will Volkswagen make Toyota's problems pale by comparison?
Warning Sign #3 – a worrying report from an industry stakeholder
In October 2014, the International Council on Clean Transportation Europe, an expert and influential body, had revealed that research indicated serious discrepancies between test results and real-world emissions in diesel cars.  See the report here http://bit.ly/1KwQ8Cs.  It can be no great surprise that the report set alarm bells ringing with the industry's regulators.
What next?
It is difficult to define in what order things will happen, but the next few months and years will see resignations, possible criminal convictions, and massive fines.  There will likely be lost sales – will the US seek to prohibit market access for VW? – lost revenues, and lost brand and reputational equity. The nightmare is just beginning.
The question for observers will be whether the board is up to the task of dealing with a crisis of such proportions when it is still recovering from its own problems.
And to reflect on the fact that companies don't fail – boards do.